Before we introduce this video, please know how grateful Dale and Kara and I are for your prayers and tithes and offerings which are helping us make the "big move' to North Idaho.
This weekend we are finalizing the month-long moving OUT of California process. Our hope and plan is to be on the road, arriving later this next week to be moving into the DBM and Eagle International Church Office in Coeur d'Alene. Thank you partners and friends for making this happen thus far and please know that we are truly appreciative and you are in our prayers as well.
This video by Dale Black, co-pastor of Eagle International GLOBAL ONLINE Church, describes how to discern truth from deception with God's word as our 'plum-line'. Watch this video to learn more about what is in store and how you can protect your family and be faithful to the end of these last days. Luke 10:19 says, "Behold, I give you the authority to trample on serpents and scorpions, and over all the power of the enemy, and nothing shall by any means hurt you."
Remember, With God nothing is impossible!
Please COMMENT, SHARE, LIKE and SUBSCRIBE! Click the image above to watch.
What Others Are Saying:
   "Thank you brother Dale, for that timely and Holy Spirit inspired message. It was the exact word I needed to hear today!" (Signs of the End Times video) Phyllis – New York
 "Dear Capt. Dale, your testimony has touched me and has made me to repent. I know from my inner being, I will now serve the lord with all my heart. Thank you for your teachings." Melikaya – So. Africa
   "Dale, I want to thank you again for the work you do for the Lord. I wrote you a view years ago and told you about my daughter who died unexpectedly. I really enjoyed your book, your videos, and your letters. They help me get through each week."  (The After Effects video) David – Nevada  
"Thank you for such excellent hands on instruction for believers of all walks. The spiritual warfare techniques you share here should be at the fingertips and on the tongue of every Christ follower. Thank you for "the equipping of the saints" as the Bible puts it." (Power Over Demons video). Eric – Canada
"Thank YOU for all the wonderful teachings. We have learned SO MUCH from you about the "meshing" of the natural and spiritual worlds. – Not that we can claim proficiency, but at least now we know how to TRY! 🙂 Thank you for love and prayers. May God continue to Bless you Both and thereby bless all who learn from you!" Jim & Jeanne – Michigan
Not sure you're going to HEAVEN? Then click on the following video link: "Jesus said, You Must Be Born Again."
Join us in Prayer & Fasting, Mondays at 12:00 noon Pacific Time every week. Pray for the church to wake up and take her place in the battle. Pray for our country (and whatever country you live in), that God would accomplish His purpose and plan. To learn more, go to: Humble Heart: Prayer & Fasting at DaleBlack.org.  Please email and let us know you are joining this powerful group of intercessors.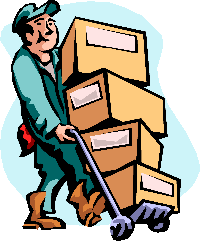 NEWS FLASH! Thank you, brothers and sisters for your wonderful support. You are truly part of the remnant body of Christ. You have blessed this ministry in our Ministry Relocation Project. There is only $4,130 still needed. With your help we will soon succeed. Thank you!
An update: We have delivered one truck and trailer of office and personal belongings and have acquired a lovely ministry office in Coeur d'Alene. We would love to see you in person so plan on making a visit when you can.
The new Ministry address will be coming soon. Here in north Idaho, each dollar is stretched due to reduced cost of living, and there will be more favor to minister and preach God's uncompromising Word. Churches are open in Idaho, unlike in California.
Can you help us across the finish line? Another truck and trailer are being loaded this week, and the first and last for a parsonage is what we are praying for God to meet next. To learn more about this move and how you can be a blessing, go to: Ministry Relocation Project.
.
Would you like to partner with Dale & Paula?
You can be part of sharing the gospel of Jesus to save, heal and deliver worldwide. You can help support building up believers in their faith.
Learn the benefits of DBM Partnership
*If you would like to DONATE to help the gospel go forward, you can give ONLINE or by MAIL. To give online, click on the DONATE button above. If you prefer to give with Check or Money Order, please make your donation payable to: Dale Black Ministries * P.O. Box 891177, Temecula, CA 92589. To make a donation or place an order by phone, call: 951-526-2101 and leave a message. Someone from our volunteer staff will call you back. Thank you very much, and may God's blessings be upon you and your family.